The Complete Dog Cancer Support Trio
Save more when giving your dog total health support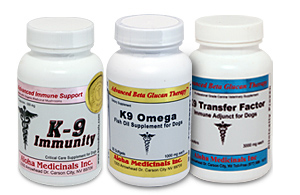 The complete Dog Cancer Support Trio supplies approximately one full month of the critical nutrients your dog needs to dramatically strengthen their immune system. It's ideal for dogs with cancer or other serious illnesses. And as a daily supplement for preventing illness in healthy dogs.
When used with other cancer treatments, this trio helps minimize side-effects and encourage faster recovery.
The complete Cancer Support Trio includes:
K9 Immunity™—activates ALL 260 different classes of immune cells
K9 Transfer Factor™—maximizes recovery results by enhancing K9 Immunity's™ effectiveness
K9 Omega™—inhibits tumor growth and supports overall health during cancer treatment
Your full satisfaction and safety guarantee: All K9 Medicinals products are safe for all dog breeds needing immune support and our products have no known side effects. It is recommended for dogs over one-year old. This formula is safe for pregnant dogs, and nursing dogs. As with any supplement, we suggest discussing the dosage with your veterinarian first.
Guaranteed safe, natural and effective:
Safe for all breeds and sizes
Safe to use with other cancer treatments
Made with 100% USDA Certified Organic materials
Manufactured in a FDA registered facility
100% non GMO
Created according to the highest pharmaceutical standards
Absolutely no binders, fillers, flow enhancers or time release agents
Have no known side-effects
100% non-toxic (no risk of overdosing)
Backed by our full satisfaction guarantee
Mushroom supplements such as K9 Immunity™ Trio, K9 Immunity Plus™ and the Armor-Up®, are not meant to be taken together.
They are similar supplements so there is no need to purchase all three.
If you have any questions and need help deciding which is best for your dog, please contact us.
Purchase Dog Cancer Support Trio Now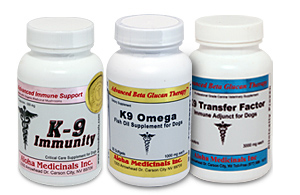 One month supply for dogs 10-34 pounds
Purchased together, it's only $51.87
You instantly save $12.98!
1 – K9 Immunity™
1 – K9 Transfer Factor™
1 – K9 Omega™
K9 Transfer Factor™ is Temporarily Out of Stock
One month supply for dogs 35-64 pounds
Purchased together, it's only $81.71
You instantly save $20.13!
2 – K9 Immunity™
1 – K9 Transfer Factor™
1 – K9 Omega™
K9 Transfer Factor™ is Temporarily Out of Stock
One month supply for dogs 65-94 pounds
Purchased together, it's only $116.72
You instantly save $27.46!
3 – K9 Immunity™
1 – K9 Transfer Factor™
2 – K9 Omega™
K9 Transfer Factor™ is Temporarily Out of Stock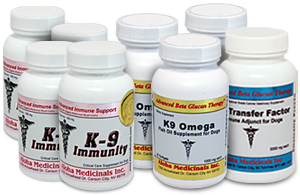 One month supply for dogs over 94 pounds
Purchased together, it's only $151.73
You instantly save $45.05!
4 – K9 Immunity™
1 – K9 Transfer Factor™
3 – K9 Omega™
K9 Transfer Factor™ is Temporarily Out of Stock