The only TRUE cordyceps supplement available
Cordyceps is a rare and powerful medicinal mushroom. It provides so many proven health benefits, wholesale prices for it has reached $35,000 per pound!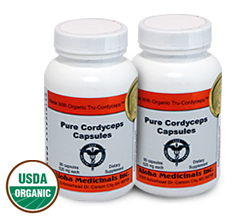 For centuries, Traditional Chinese Medicine and Traditional Tibetan Medicine revered wild cordyceps as a potent immune-boosting, anti-aging properties. Modern studies show cordyceps provides numerous health benefits including:
Removing free radicals
Protecting against oxidation
Stimulating immune system response
Balancing blood lipids
Stimulate testosterone release
Reduce inflammation in lung airways
Prevent tumors from forming
Normalize blood sugar levels
Increase energy levels
Improve CD4 to CD8 ratios in Hepatitis B patients
Strengthen kidney function
The only TRUE cordyceps
The most prized form of cordyceps is the wild variety called cordyceps sinesis. However, wild cordyceps only grows around the high altitudes of the Himalyas and in tiny sections along the border between China and India. Because it's so rare, difficult to harvest, and subsequently expensive, most dietary supplements use the commercially farmed CS-4 culture.
The CS-4 cordyceps culture has been the staple of cordyceps supplements since the 1970s. With advances in genome testing, scientists learned CS-4 does contain beneficial properties, but it only contains a fraction of the medicinal properties found in wild cordyceps.
USDA organicIn 2001, the world's leading cultivator of medicinal mushrooms (Aloha Medicinals), successfully cultivated the only cordyceps that is bio-identical to the powerful, wild cordyceps occurring in nature. Aloha Medicinal's cultivation technology is so advanced, it was issued the only patent ever granted for mushroom hybridization.
This bio-identical variety is what you receive in Pure Cordyceps. Please note, this is NOT a genetically modified organism (GMO). Pure Cordyceps is 100% natural and certified by the world's most demanding quality standards.

Guaranteed safe, natural and effective
To maintain purity and potency, the cordyceps used in this formula are grown in a highly regulated, organic facility here in the U.S. And they're grown in precisely monitored conditions to replicate the air pressure, temperature, soil conditions and other characteristics of the Himalayan mountainside.
Pure Cordyceps is guaranteed pure and safe:
Made with 100% USDA Certified Organic materials
Manufactured in a FDA registered facility
100% non GMO
No heavy metals, toxins, or other contaminants
Made from Certified Kosher ingredients
Created according to the highest pharmaceutical standards
Absolutely no binders, fillers, flow enhancers or time release agents
Have no known side-effects
100% non-toxic (no risk of overdosing)
Backed by our full satisfaction guarantee
Recommended Daily Use:
1 or 2 capsules once or twice a day with meals. As with any supplement, please consult with your healthcare professional when pregnant or nursing.
Purchase Pure Cordyceps Now
Pure Cordyceps
$24.95