Dog Cancer Diagnosis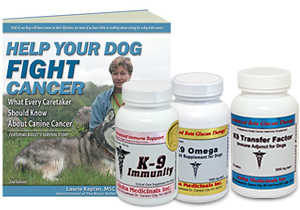 Here are the things you need for optimum home care of your sick friend. In addition to the options provided by your vet, there are many other things you can do to increase the likelihood of a successful treatment. And supplements that will increase the patients quality of life. Because there are so many options available, we know it can be hard to know which are the best things to buy for your dog.
So we have assembled a KIT of the things we find are most needed for addressing this terrible problem. Here you will get K9 Immunity, K9 Transfer Factor and K9 Omega, as well as a copy of the great book on home care options by Laurie Kaplan, "Help Your Dog Fight Cancer."
This is suitable for dogs 34 lbs or less  or 60 lbs or more. The kit is approximately a full month of care, and the price is 10% off compared to buying the items separately.
Purchase K9 Immunity™ Now
Small Breed Cancer Kit
One month supply for dogs 34 pounds or less
You instantly save $12.98!
$81.71
K9 Transfer Factor™ is Temporarily Out of Stock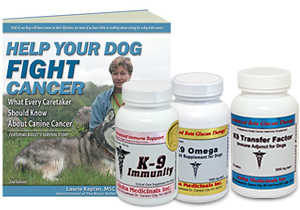 Large Breed Cancer Kit
One month supply for dogs 60 pounds or more
You instantly save $27.46!
$151.73
K9 Transfer Factor™ is Temporarily Out of Stock