PetzLife Herbal Defense Powder
Controls Ticks and other biting insects
Natural Protection From the Inside Out – Great for Dogs and Cats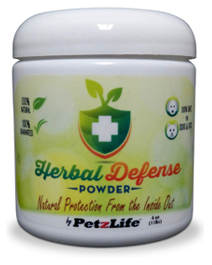 Herbal Defense Powder is an herbal product that helps to repel Ticks and other biting insects. Does not contain any chemical insecticides and is safe for all ages. Ideal for dogs or owners who are allergic to chemical sprays. Simply sprinkle on the animal's moist food twice a day for 5 days and protect your pet for up to 2-3 months. Takes effect in as little as 5-10 days and dosage can be repeated if needed.
Herbal tick repellent

Contains no chemical insecticides
Safe for all ages
Great for dogs with allergies
Simply add to food for months of protection
Ingredients:
Quassia Amara(Quassia Bark), Anise, Oregon Grape Root, Spirulina, Brewers Yeast, Thyme, Tansy
Dosage:
Pet under 25 lbs……½ tsp.
Pet 26-60 lbs…………1 tsp.
Pet 60+ lbs…………… 2 tsp.
Purchase PetzLife Herbal Defense Powder Now
4 oz PetzLife Herbal Defense Powder
$23.99