A science-based formula developed for Vets…for your pets. Most Advanced Tool In The Fight Against Canine Cancer. ARMOR-UP® is a holistic, multi-formula, science based, canine health supplement. It designed to support canine body systems responsible for optimal immune system function and health.
Controls Ticks and other biting insects
Natural Protection From the Inside Out – Great for Dogs and Cats. Natural Defense Powder is an herbal product that helps to repel Ticks and other biting insects. Does not contain any chemical insecticides and is safe for all ages. Ideal for dogs or owners who are allergic to chemical sprays. Simply sprinkle on the animal's moist food twice a day for 5 days and protect your pet for up to 2-3 months. Takes effect in as little as 5-10 days and dosage can be repeated if needed.
Natural Coat Care
PetzLife Herbal Defense Spray is formulated as a topical formula to keep your pet's coat healthy and, more importantly, to ward off insects and parasites of all types. It is all-natural and contains NO pesticides.
Eliminate Plaque, Remove Tartar, Reverse Gum Disease and Freshen Breath immediately.
Great for Dogs and Cats. PetzLife Oral Care is a complete, all-natural solution to your pet's oral care needs. It is GUARANTEED to break down plaque and tartar, work under the gum line to help heal gum tissue, and kill the bacteria that causes bad breath. So whether your pet has bad tartar build-up, has red inflamed gums, or just plain old stinky breath….
Anal Gland Support for Dogs and Cats.
Veterinarians and pet owners everywhere know that Glandex is the best way to maintain healthy anal glands in dogs and cats. That's because Glandex is the only product that addresses all of the underlying causes of anal gland problems and works from the inside out to help maintain healthy anal glands. Glandex is a highly effective and proven solution to anal gland problems and the results speak for themselves.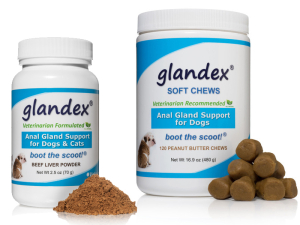 Tri- KRILL™ Pump For Pets contains 500 pumps per bottle. Use one pump for every 10 pounds of body weight per day, thats a 250 Day supply for a 20 pound pet.
Tri- KRILL™ contains more astaxanthin per serving than any other plain krill oil product on the market.
Tri-KRILL™ is sourced directly from the Antarctic which combines the power of Krill Phospholipids with 20X astaxanthin per serving in an easy-to-use pump. We add genuine AstaREAL® astaxanthin to enhance the naturally occurring astaxanthin that krill oil contains twenty times stronger, the highest level in any krill pump.
The ultimate daily dog supplement. Designed by Dr. Demian Dressler, inventor of Apocaps, the world's first apoptogen formula, EverPup has some of the same natural apoptogen ingredients as Apocaps, but also includes glucosamine (for joint support), Prebiotics and Probiotics (for digestive support), plus essential vitamins and minerals.